Ukraine wants guaranteed volume of gas shipments from Moscow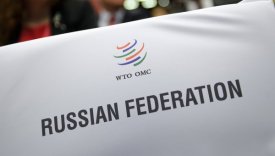 Ukraine and Russia will continue to search for a mutually acceptable solution for the establishment of a consortium to manage the Ukrainian gas transportation system, Ukraine's Ambassador to Russia Volodymyr Yelchenko said in an exclusive interview with Interfax.
"In this context, we are looking for a mutually acceptable solution on the organizational format of the joint venture (the consortium), which on the one hand will be the most efficient way to guarantee the implementation of the economic interests of the parties, and on the other will meet the requirements of national laws and international obligations," the ambassador said.
The parties are trying to reach a compromise, a balanced solution that would make it possible to introduce an economically justified level of gas prices and to determine the best model of interaction to provide reliable transit of Russian natural gas to European customers through Ukraine, he said.
"We understand that in the first place we should agree on the guaranteed volumes of gas to be shipped to Europe through Ukraine's main gas pipeline system, as well as the scope of bilateral obligations," Yelchenko said.
He expressed confidence that in case of reaching agreements with Russia in the gas sector, Ukraine would receive gas at a fair price and that European consumers would have guarantees of uninterrupted supply of Russian gas through the Ukrainian gas pipeline system.